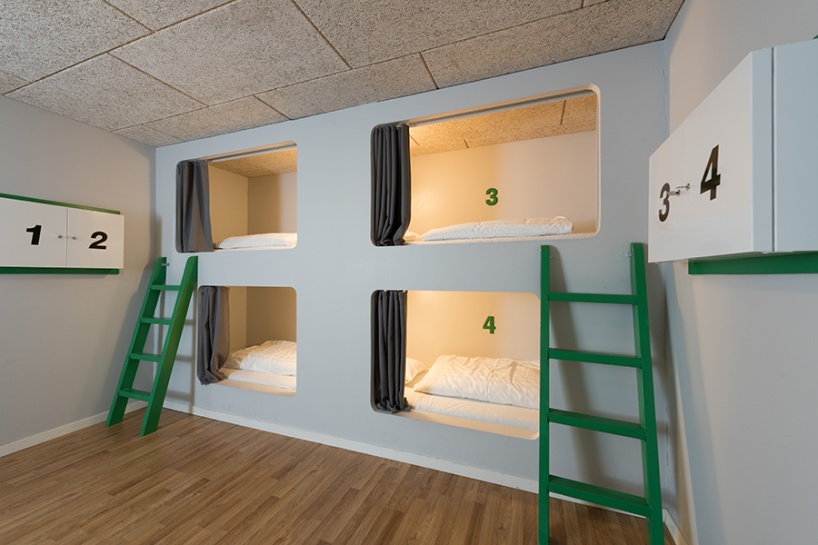 Many of our guests are positively surprised when they realise how practical and smart our concept with sleeping pods is. Even when several people share a room, the sleeping pod feels private and comfortable. All pods have reading light, power outlet (charge your phone while you sleep) and a privacy curtain.

Your own room
You have the option to book your own private room when it suits you better. Look for our two-bed rooms or family rooms with four or six beds in our booking form.

Flexible check-in and no keys
You will receive the code to the front doors by e-mail and text message one day prior to check-in.
Same day as check-in we will sent you another e-mail with your bed assignment and code to your room.

Our un-manned reception makes it very simple to check-in. Just follow the instructions in the e-mails we sent you. No keys and you may arrive late.

Staff is present on site every day. We answer calls on +46 46 80 900 between 8:00 am and 8:00 pm. Guests also have acces to a 24 Hour Service number.

When you book same day, we will send you an e-mail with all the information.
Lounge, kitchen and other common areas
All guests have full access to our large and well-equipped kitchen. In the lounge we have 28 seats, high speed Wi-Fi and possibility to stream movies to our large screen (by Chromecast or Samsung ScreenShare).

Below you will find photos of our rooms. Click to see more for each room. Rooms are different in size and number of sleeping pods. Our large rooms, Rausing and Selma, both consists of two sections, four pods in each.
Book
Click on the button to the right to reach our booking form.